Stay Safe, Stay Legal and help Fight Crime
Consumer demand for LP Gas in South Africa is increasing at a substantial rate, this increased demand has led to an increase in illegal activities by certain parties who see the LP Gas industry as an opportunity to make quick money – no matter the risk or consequences to the public.
A
Only specially trained people using special equipment can refill gas bottles correctly and by the proper safety guidelines.
Often these cylinders have not been properly checked for safe continuous use, so they are extremely dangerous and have the potential to leak.
Without the correct equipment LP Gas cylinders could be under- or over-filled.
Overfilled LP Gas cylinders could be hazardous and dangerous.
Unsuspecting consumers are being cheated by being charged for more LP Gas than they actually receive.
A
You are breaking the law as you are in contravention of the General Law Amendment Act, 1955 (Act No. 62 Of 1955), Section 37
You are supporting crime and encouraging the illegal trade and refilling of LP Gas cylinders which can place lives at danger.
General Law Amendment Act, 1955 (Act No. 62 Of 1955), Section 37
Any person who in any manner, otherwise than at a public sale, acquires or receives into his or her possession from any other person stolen goods, without having reasonable cause for believing at the time of such acquisition or receipt that such goods are the property of the person from whom he or she receives them or that such person has been duly authorized by the owner thereof to deal with or to dispose of them, shall be guilty of an offence.
A
Check the seal on the cylinder for the gas supplier's official branding. The seal must contain the supplier's official branding and match the logo that is printed on the cylinder.
Look for the supplier's official stamp on the cylinder's neck ring. This stamp and the seal must both have the same company name as well as other pertinent information like tank weight, tank capacity, test pressure, minimum wall thickness, serial number and country of manufacture.
Check that the gas supplier's logo and name printed on the cylinder match the name on the seal and neck ring.
Check the inner side of the cylinder stay plate to see when it's due for its next test to ensure that the date has not elapsed.
If the cylinder has a seal that is clear or it has no seal at all, then it has most likely been illegally refilled.
Always purchase your gas cylinders from a reputable company, and exchange your gas bottles at an authorised dealer, so that you can be sure that the cylinders have been legally filled to meet the requirements as set out by the Occupational Health and Safety Act's pressure equipment regulations.
You can report illegal fillers or retailers of gas cylinders at this email address: fightcrime@epggas.co.za
The LPGSASA (Liquefied Petroleum Gas Safety Association of South Africa) association is working very hard to ensure that the insurance companies are aware of the rogues, best to be compliant as soon as possible to avoid losing your cover.
Always ensure you purchase from a LPGSASA Member. EPG Gas is proud to be a LPGSASA Member.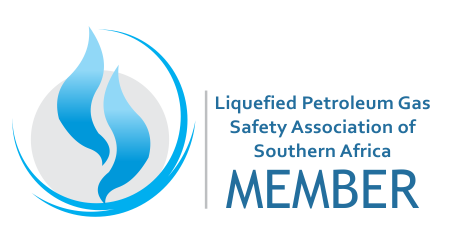 Our Legally Refilled LP Gas Cylinders